Do you think this should be a feature???
My Muse
wants me to do a post on projects I'm working on. I have projects coming out my ears these days.
I'm working on making as many of our Christmas presents as possible. I just love the idea of a handcrafted Christmas! I have added incentive because of the general (and personal) financial climate.
I love, love, love Christmas. I always have. I love it even more now that I'm Catholic and I have the season of Advent to help me prepare my heart and my home for it. I love celebrating for 12 days, not just one. I love knowing that Santa Claus was a real, live person. I love buying presents for people. I love looking for something they will truly enjoy and appreciate.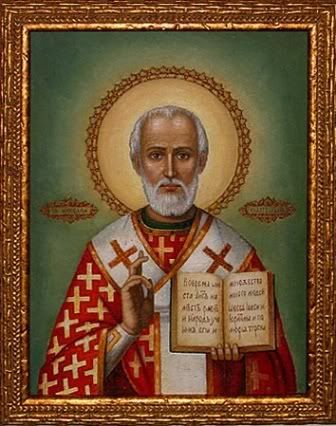 What I
don't
love is having a budget. Feeling like I have to spend a certain amount on a person for the gift to be acceptable. I don't love having a list to follow, because really, most of the people I buy for are well off and can buy themselves whatever they want. If they can't afford it, neither can I. I want to get them something special that they'll enjoy, but didn't know they wanted! I feel that a gift from a store rarely shows the thought and love put into buying it. At least for me, there is a LOT of stress involved in buying that perfect gift. Just about the only exceptions to this are those things that you know the person would never buy for themselves because of the luxury, and joint gifts where everyone gets together to get something really perfect that no one family could afford.
Do I sound like Scrooge? I certainly don't mean to, because, as I said, I love Christmas! I just want to be able to focus on the
Reason for the Season
rather than the stress and financial worries. And I don't want anyone to think that I'm unappreciative of their gifts to me---what I'm saying applies only to
my
personal gift-
giving
.
So I'm trying to make, with the assistance of the children (the younger 3 who are with me all the time!), gifts for our families. I'd like them to make gifts for each other, too. I'll make as many as I have time for and buy the rest. Anyone family members out there reading this blog can reciprocate in kind. Make our gifts as simple as you would like!
Now all that is just the introduction to what I'm actually working on. If any family members are still reading and haven't left in a huff, you might want to stop if you don't want any Christmas spoilers. I'll be general, not specific, so you'll get hints if you keep reading.
~~~~~~~~~~~~~~~~~~~


I've been knitting! And knitting, and knitting. So far, it's really just 2 projects, but one of them contains a celtic knot, which is the hardest thing I've ever done. I'm half finished and it looks great. I found a spot where I had purled several rows that were supposed to be knit, and I was able to drop those stitches and pick them up again with a crochet hook instead of un-knitting three rows of complicated cables. I'm very proud of myself for being able to do that because, believe me, if cabling is hard, un-cabling is so much worse. If you squint, maybe you can see the cable in the picture!


During our studies of Colonial times we've been doing projects that they would have done. Naturally, I decided to incorporate our stenciling craft into our gift giving. Teaching children to stencil is easy. Teaching them to do it with the proper technique and patience is hard!

We're also working on some

papier maché.

This is a project that I've wanted to do for years. So far, one attempt has failed, but the other shows promise and we'll get back to it soon. I hope next week.

This is where my children have to really STOP READING!!!


I have a couple of sewing projects planned, but I can't elaborate because the children won't stop reading!



Now they won't even leave the room, so that must be my cue to stop blogging. lol. Until next time....