Is it really Wednesday? I'm so off-balance, I have no idea. It all started last week with missing Wednesday. I have no idea where it went and I didn't catch up until Sunday, cuz
that
was my birthday. Hard to forget turning 44. But the brain quickly lost track again!
Maybe that's why I prefer the school year---I have the different daily activities, like piano lessons or football games, that keep me firmly anchored to the appropriate day of the week.
Oh, and there are 2 posts today---scroll on down when you're done with this one. The Jane Austen post was supposed to appear on the 8th, but I had scheduled it for 2009. Sheesh.
What's Going on Today?
First piano lesson of the school year for TMax!
First non-piano lesson of the year for Pipster. He quit in a huge display of tears after his cast came off.
Football practice for Hitch and Madden, which means
Seriously complex carpooling maneuvers to get them to school and TMax to piano.
After piano is over, I can just

relax

and turn my van over to KT so she can drive alll the waaay to Hi-Fi Buys Amphitheater for a concert tonight. Alone. Jack Johnson, anyone? She is meeting a friend there, one who lives on the opposite side of Atlanta, so no carpooling.
What I'm excited about:
I got my very first bloggy award from my friend Kalynne at
The Philosopher-Mom
. Now, let's see if I'm clever enough to figure out how to post the darn thing---I mean, "this wonderful award."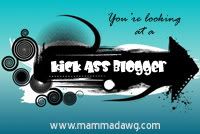 I'd like to thank the Academy and my (10) faithful readers for this award. I will endeavor to kick some ass in future posts. I'd nominate Kalynne, but she already got one and
really
kicks ass
. So, I'll nominate some of my other favorite bloggers:
Rachel at Between Stupid and Clever
Kathleen, The Responsible One
Suburban Correspondent, The More, the Messier
Jennifer, Conversion Diary
, and
Holly, June Cleaver Nirvana
What I'm not excited about:
Pretty much everything.
Calendar filling up to a scary degree.
My sweet girl going back to UGa on Friday.
Co-op starting in 3 weeks.
Being the lead teacher for the 7th grade and up Boys.
Did I mention Co-op?
What I'm working on:
Remember the photo albums? 20 years worth of photos are still on my dining room table and they need to be put away by Labor Day weekend when Mil & Fil come to visit.
Redecorating my bedroom, on a shoestring, in a way that will make me smile when I walk in. That involves repainting my mother's Ethan Allen furniture white. A huge job. But she would totally approve since she hated it and she had painted the matching hutch white

years

ago. She loved painting things white!
What I'm looking forward to:
Watching more Olympics
Listening to 17 hours of Harry Potter and the Deathly Hallows on CD because Pipster hasn't read it yet. It really makes driving places bearable!
Best of all----Choir rehearsals start again next week!!! And I get to be in the "quartet" this year that sings gorgeous music once a month!
Ya'll have a great day!